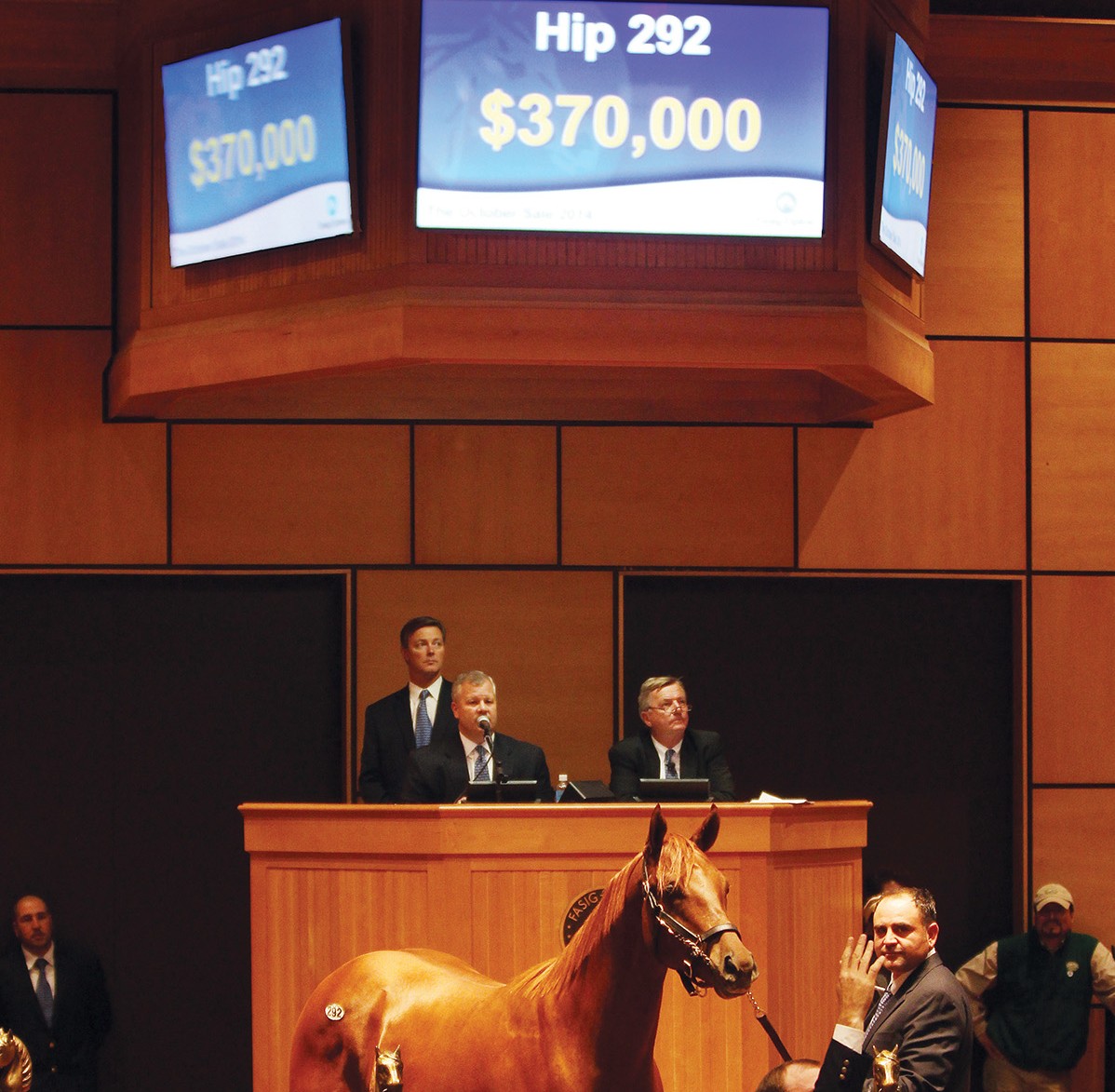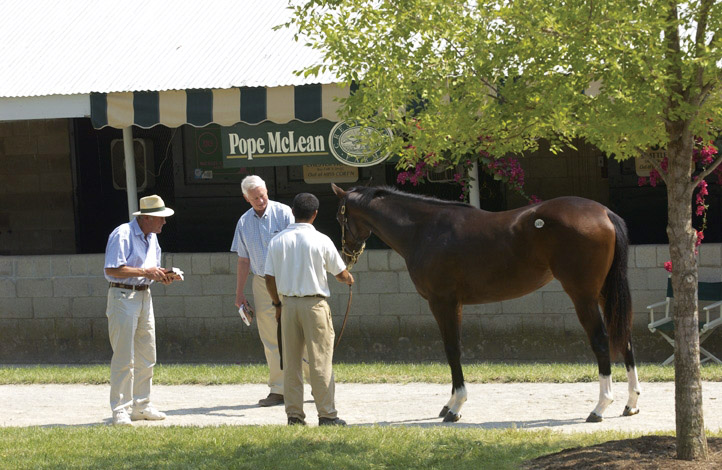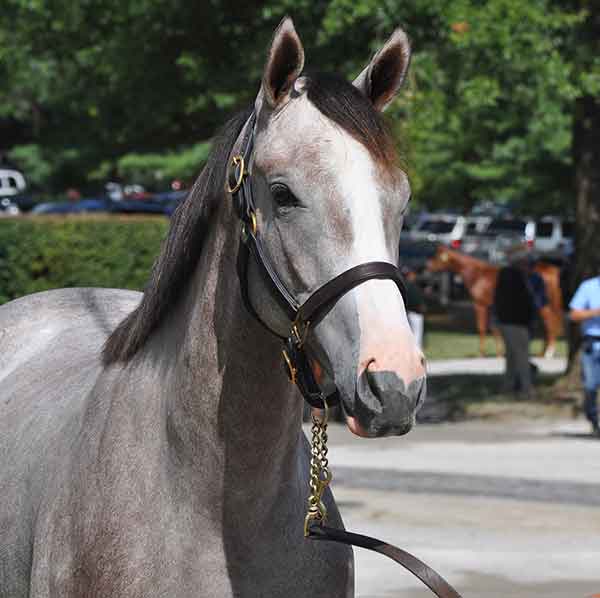 CURRENT SALES CONSIGNMENTS
2021 Keeneland September Yearling Sale
| Hip | Ped. | Name | Sex | Sire | Dam | St. Bred | YOB | video |
| --- | --- | --- | --- | --- | --- | --- | --- | --- |
| 3802 | | Ms Jeb | F | Get Stormy | Heirness | KY | 2020 | |
| 3786 | | Unnamed | F | Cloud Computing | Foxy Posse | KY | 2020 | |
| 3782 | | Unnamed | F | Unified | Flatter Me More | KY | 2020 | |
| 3767 | | Unnamed | C | Unified | Dream Indy | KY | 2020 | |
| 3753 | | Unnamed | F | Funtastic | Cubs Fan | KY | 2020 | |
| 3742 | | Unnamed | F | Tu Brutus (CHI) | Calamari | KY | 2020 | |
| 3720 | | Unnamed | C | Get Stormy | Allons Danser | KY | 2020 | |
| 3706 | | Unnamed | C | Gormley | Welcome Aboard | KY | 2020 | |
| 3704 | | Unnamed | F | Firing Line | War Alert | KY | 2020 | |
| 3622 | | Lillies For Stormy | F | Get Stormy | My Favorite | KY | 2020 | |
| 3605 | | Unnamed | F | Good Samaritan | Marazion Girl | KY | 2020 | |
| 3601 | | Unnamed | F | Get Stormy | Lu Baton | KY | 2020 | |
| 3589 | | Unnamed | F | Bodemeister | Katouni | KY | 2020 | |
| 3581 | | Unnamed | F | Wicked Strong | I'm Cozy | KY | 2020 | |
| 3131 | | Unnamed | C | Tu Brutus | Figrare | KY | 2020 | |
| 3105 | | Unnamed | F | Get Stormy | Daydawn (IRE) | KY | 2020 | |
| 3096 | | Unnamed | Colt | Commissioner | Crocodile Tuff | KY | 2020 | |
| 3093 | | Unnamed | Colt | Get Stormy | Cosmic Energy | KY | 2020 | |
| 2994 | | Unnamed | F | Speightster | Two Harbors | KY | 2020 | |
| 2985 | | Unnamed | C | Get Stormy | Touch of Gray | KY | 2020 | |
| 2967 | | Unnamed | F | Brody's Cause | Swinginfromarainbo | KY | 2020 | |
| 2947 | | Unnamed | Colt | Army Mule | Star Pearl | KY | 2020 | |
| 2927 | | Unnamed | F | Speightstown | Silent Bond | KY | 2020 | |
| 2875 | | Unnamed | C | Malibu Moon | Queen Daenerys | KY | 2020 | |
| 2849 | | Munerary | F | Munnings | Ode to a Skylark | IN | 2020 | |
| 2839 | | Unnamed | F | Hard Spun | Mriya | KY | 2020 | |
| 2813 | | Unnamed | C | Daredevil | Majorelle | KY | 2020 | |
| 2274 | | Unnamed | Colt | Blame | Dreamboat Annie | KY | 2020 | |
| 2253 | | Unnamed | C | More Than Ready | Crown It | KY | 2020 | |
| 2020 | | Unnamed | F | West Coast | Charming She Is | KY | 2020 | |
| 2214 | | Unnamed | F | Get Stormy | Brilliant City | IN | 2020 | |
| 2198 | | Unnamed | F | Cairo Prince | Armoire | KY | 2020 | |
| 2155 | | Unnamed | C | Always Dreaming | Union Flag | KY | 2020 | |
| 2131 | | Unnamed | F | Twirling Candy | Thirteen Songs | KY | 2020 | |
| 2109 | | Unnamed | C | Gun Runner | Street Flirt | KY | 2020 | |
| 2107 | | Unnamed | F | Runhappy | Strawberry Tequila | KY | 2020 | |
| 2084 | | Unnamed | C | Twirling Candy | Siparia | KY | 2020 | |
| 2078 | | Unnamed | C | The Factor | Shock the World | KY | 2020 | |
| 2053 | | Unnamed | F | Good Magic | R Naja | KY | 2020 | |
| 2038 | | Unnamed | C | Sharp Azteca | Raging Storm | KY | 2020 | |
| 1953 | | Unnamed | F | Practical Joke | Lady Hansen | KY | 2020 | |
| 1950 | | Unnamed | F | Good Magic | Lacie Slew | KY | 2020 | |
| 1936 | | Unnamed | C | Accelerate | Izzy Izzy | KY | 2020 | |
| 1398 | | Unnamed | C | Blame | Bayou Tortuga | KY | 2020 | |
| 1395 | | Unnamed | F | Bernardini | Back Road Bellamy | KY | 2020 | |
| 1383 | | Unnamed | F | Tiznow | Anita Partner | KY | 2020 | |
| 1371 | | Unnamed | F | More Than Ready | All Night Party | KY | 2020 | |
| 1360 | | Unnamed | C | Hard Spun | Yabba | KY | 2020 | |
| 1251 | | Unnamed | F | Empire Maker | Safwah | KY | 2020 | |
| 1166 | | Unnamed | C | Good Magic | Media Madness | KY | 2020 | |
| 1112 | | Unnamed | F | West Coast | Jb's Golden Regret | NY | 2020 | |
| 1108 | | Unnamed | C | Lord Nelson | Invested Prospect | KY | 2020 | |
| 740 | | Unnamed | F | Bernardini | Herkimer Diamond | KY | 2020 | |
| 707 | | Unnamed | F | Gun Runner | Freud's Notebook | NY | 2020 | |
| 686 | | Unnamed | F | Ghostzapper | Dynamotor | KY | 2020 | |
| 415 | | Unnamed | F | Ghostzapper | Know Clouds | KY | 2020 | |
| 633 | | Unnamed | F | Into Mischief | Best of Times | KY | 2020 | |
| 454 | | Unnamed | F | Mendelssohn | Miz Ida | KY | 2020 | |
2020 Keeneland November Sale
| Hip | Ped. | Name | Sex | Sire | Dam | St. Bred | YOB | video |
| --- | --- | --- | --- | --- | --- | --- | --- | --- |
| 3657 | | American Lights | Mare | Ten Centuries | American Dreamer | KY | 2008 | |
| 3653 | | Unnamed | F | Free Drop Billy | Adios Caballero | KY | 2020 | |
| 3652 | | Adios Caballero | Mare | El Prado (IRE) | Langano | KY | 2009 | |
| 3589 | | Unnamed | C | Commissioner | Sharp Finnish | KY | 2020 | |
| 3505 | | Malibu Song | Mare | Power Broker | Chase the Punch | KY | 2015 | |
| 3474 | | Kalliniki | F | Broken Vow | Athena Two O Four | KY | 2016 | |
| 2870 | | Unnamed | C | Karakontie (JPN) | Trustee | KY | 2020 | |
| 2631 | | Unnamed | C | Midshipman | Giant Empire | KY | 2020 | |
| 2630 | | Giant Empire | Mare | Giant's Causeway | Byzantine | KY | 2012 | |
| 2120 | | Unnamed | F | Unified | Black Escort | NY | 2020 | |
| 2105 | | Athena Two O Four | Mare | El Prado (IRE) | Afaladja (IRE) | KY | 2003 | |
| 2079 | | Unnamed | F | Shackleford | Where There's Love | KY | 2020 | |
| 2047 | | Unnamed | F | Tapizar | Thatbossanovasound | KY | 2020 | |
| 2046 | | Thatbossanovasound | Mare | Blame | Broad Sound | KY | 2014 | |
| 1951 | | Unnamed | C | Shackleford | Peggy's A Ten | KY | 2020 | |
| 1949 | | Unnamed | C | Get Stormy | Pavla | KY | 2020 | |
| 1886 | | Unnamed | C | Daredevil | Majorelle | KY | 2020 | |
| 1801 | | Unnamed | Y | Outwork | First Quality | KY | 2020 | |
| 1800 | | First Quality | Mare | Elusive Quality | Mountain Girl | KY | 2009 | |
| 1306 | | Unnamed | F | Liam's Map | Bella Biondetti | KY | 2020 | |
| 1247 | | Unnamed | C | Practical Joke | Utana | Ny | 2020 | |
| 1215 | | Surfs Edge | Mare | Malibu Moon | Essential Edge | ON | 2015 | |
| 1203 | | Unnamed | F | Blame | Speightlass | KY | 2020 | |
| 1148 | | Unnamed | C | Connect | Prize Catch | KY | 2020 | |
| 1091 | | Unnamed | C | Mendelssohn | Marie Curie | KY | 2020 | |
| 1078 | | Lunar Affair | Mare | Malibu Moon | Magical Affair | ON | 2016 | |
| 1060 | | Unnamed | C | Dialed In | Lady On Holiday | NY | 2020 | |
| 1057 | | Unnamed | F | Good Magic | Lacie Slew | KY | 2020 | |
| 577 | | Unnamed | F | Hard Spun | Cleo | NY | 2020 | |
| 501 | | Unnamed | C | Always Dreaming | Union Flag | KY | 2020 | |
| 385 | | Unnamed | F | Mendelssohn | Palomanegra | KY | 2020 | |
| 375 | | Unnamed | F | Twirling Candy | Oh Flatter me | KY | 2020 | |
| 311 | | Unnamed | F | West Coast | Jb's Golden Regret | NY | 2020 | |
| 280 | | Unnamed | F | Good Magic | Harbor Cat | NY | 2020 | |
| 220 | | Crimson Frost | Mare | Stormy Atlantic | Rock Jasmine | KY | 2014 | |
| 415 | | Unnamed | F | Ghostzapper | Know Clouds | KY | 2020 | |
Upcoming Dates & Deadlines
| | | | | |
| --- | --- | --- | --- | --- |
| DATES | SALE CO. | SALE | LOCATION | NOMS./ENTRIES CLOSE |
| Jan 7-10 | Keeneland | | Lexington, KY | |
| Feb 4-5 | Fasig-Tipton | | Lexington, KY | Dec 10 |
| Jul 9 | Fasig-Tipton | | Lexington, KY | Jun 12 |
| Jul 9-10 | Fasig-Tipton | | Lexington, KY | Feb 1/May 6 |
| Aug 5-6 | Fasig-Tipton | | Saratoga Springs, NY | Feb 1/May 6 |
| Aug 11-12 | Fasig-Tipton | | Saratoga Springs, NY | Feb 1/May 13 |
| Sep 9-21 | Keeneland | | Lexington, KY | May 1 |
| Oct 15 | Fasig-Tipton | | Saratoga Springs, NY | Jul 12 |
| Oct 21-24 | Fasig-Tipton | | Lexington, KY | Aug 1 |
| Nov 5 | Fasig-Tipton | | Lexington, KY | Aug 16/Sep 2 |
| Nov 6-17 | Keeneland | | Lexington, KY | Aug 1 |
CRESTWOOD: A NAME YOU CAN RELY ON
EXPERIENCE

Est. 1970 – Approximately 50 years of knowledgeable horsemanship & quality service.
REPUTATION

Built on performance, integrity & work ethic.
With 250+ Stakes Horses to its credit, Crestwood attracts a deep & loyal buying bench.
RESULTS

Crestwood has sold multiple $1,000,000+ horses at auction, and hundreds of $100,000+ horses.
EFFICIENCY

Large enough to secure optimal sales positioning; rightsized so that YOUR horse's exposure is maximized.
ATTRACTIVE RATES

Competitive commission schedules, flexible/creative plans, etc.